Customer Service:
CONTACT US

9891 Montgomery Rd.
Suite 189
Cincinnati, OH 45242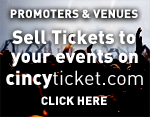 Follow us on Facebook & Twitter for chances to win free tickets. Plus, be the first to know when great events go on sale!

Email List



Shake It Records, the Madison Theater Box Office, & The 86 Club are authorized CincyTicket outlets.

Ticketing System by