White Christmas
Bundle
Buy Bundle
Choose 10 upcoming Sorg Opera House shows for just $150/reserved or $175/premium!
Buy Bundle
Choose 5 upcoming Sorg Opera House shows for just $85/reserved or $100/premium!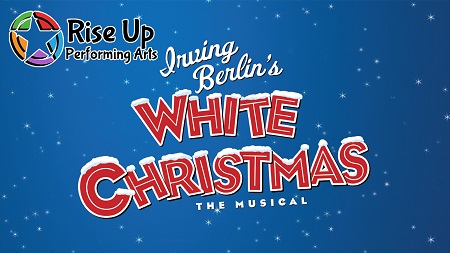 at Sorg Opera House

Box office opens one hour before showtimes.
Thursday, Dec. 7, 2023 - 7PM
Friday, Dec. 8, 2023 - 7PM
Saturday, Dec. 9, 2023 - 2PM
Saturday, Dec. 9, 2023 - 7PM
Sunday, Dec. 10, 2023 - 2PM
Reserved Seating: $15 advance

Box Seats: $15 each
(

Must buy all 4 in a box

. Includes 1 drink voucher per seat. **Please be aware that lines of sight to some parts of the stage may be partially obstructed by sound equipment.)
Free parking behind the building off of Broad Street and off of First Street.
More info:
www.sorgoperahouse.org
Rise Up Performing Arts
is honored to present IRVING BERLIN'S WHITE CHRISTMAS.
Based on the beloved, timeless film, this heartwarming musical adaptation features 17 Irving Berlin songs and a book by David Ives and Paul Blake.
Veterans Bob Wallace and Phil Davis have a successful song-and-dance act after World War II. With romance in mind, the two follow a duo of beautiful singing sisters en route to their Christmas show at a Vermont lodge, which just happens to be owned by Bob and Phil's former army commander. With a dazzling score featuring well-known standards including "Blue Skies," "I Love A Piano," "How Deep Is the Ocean" and the perennial title song, White Christmas is an uplifting, wholesome musical that will delight audiences of all ages.
Directed by Rodney Neal