Woodward Cinema presents Return to Dust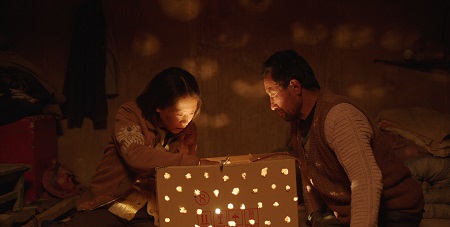 Trailer
In the small, rural village in Gaotai, two lonely, middle-aged
people—Cao, a timid woman suffering from chronic illness and a
disability, and Ma, an unassuming farmer with little to his name—are
pushed into an arranged marriage by their respective families. Cast
aside as burdens, Cao and Ma's relationship is tepid at first but
warms as the two spend their days fixing up an abandoned house on
their small patch of land. Invigorated by a shared purpose and the
all-consuming nature of farm work, the couple's bond grows. However,
in the dwindling rural communities of the Gansu province surrounding
them, local farmers are being incentivized by local government to
demolish their homes and uproot toward the cities. With their
livelihood disappearing, the couple attempt to build a new life
together with continued patience and determination toward their home
and one another.
Featuring beautiful lead performances by Wu Renlin and Hai Qing and
meticulously shot over the course of a year, Return to Dust is "an
absorbing, beautifully framed drama...." (Variety). Li Ruijun's
humanist approach to documenting the rapid urbanization of his beloved
native region and the individuals it produces prove him to be one of
the leading figures of Chinese independent cinema.
Despite receiving critical praise and grossing over $15 million at the
Chinese box office during its domestic release, Return to Dust was
banned by the government in September 2022. Ahead of the Communist
Party Congress, the film was pulled from theaters and streaming
services without further explanation. Given the highly restrictive
media environment in China, the film should serve as a reminder of the
importance of artistic freedom and that artists everywhere are
vulnerable to censorship.