Woodward Cinema presents Chunky Shrapnel + Sleeping Monster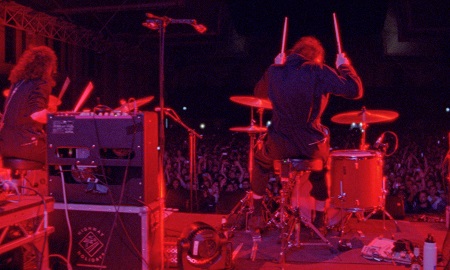 Trailer:
https://vimeo.com/754355114/774a80f490
CHUNKY SHRAPNEL is the much-anticipated feature length live music
documentary that follows the hugely popular, hyper-prolific Australian
band King Gizzard & the Lizard Wizard on their recent European tour.
Literally bringing the audience onto the stage, CHUNKY offers a
uniquely immersive experience never before captured on film… a musical
road movie dipped in turpentine.
King Gizzard has released 20 studio albums in 10 years (including five
in 2017 alone), 10 of them charting in the Top 20 in Australia, where
they are now arguably the country's most innovative, important, and
productive rock band. They attract international critical acclaim and
have had a packed international touring schedule for many years.
Their fans will jump at the chance to see them again.
SLEEPING MONSTER was filmed in Melbourne during the first several
months of the COVID-19 pandemic. "Australia had one of the most strict
lockdowns in the world," Gizzard frontman Stu Mackenzie says. "We
couldn't really do anything. We couldn't make music. But there were a
few ways to legally get together, one of which was to make a film, so
that's what we did. We spent a lot of that period just filming and
documenting everything as we recorded and did other things."
Indeed, Sleeping Monster captures the band members building their new
studio ("We're six skinny, scrawny musos, but we got our hands dirty,"
Mackenzie said) and recording the album Changes, work on which began
in 2017 but was finally released in October 2022. "It's definitely
part of the Changes world and sits alongside it."