Noah Guthrie & Good Trouble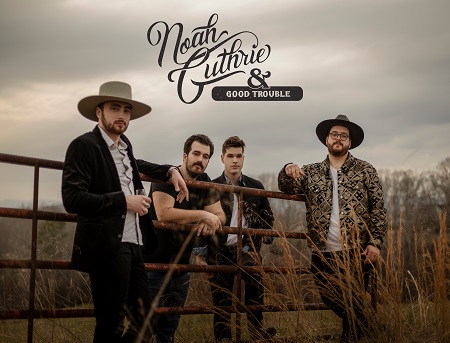 5/13/23 at Sorg Opera House CANCELLED

Box office/Doors 7PM, Show 8PM
Reserved Seating: $30 advance
Premium Seating: $35 advance
Super Premium Seating: $40 advanceBox Seats: $35 each
(

Must buy all 4 in a box

. Includes 1 drink voucher per seat. **Please be aware that lines of sight to some parts of the stage may be partially obstructed by sound equipment.)

Free parking behind the building off of Broad Street and off of First Street.
More info:
www.sorgoperahouse.org
Music has been at the forefront of Noah's life for as long as he can remember. With his family's musical roots running deep, Guthrie's dream was always to be an artist and musician, but he didn't realize he could make it a reality until he started posting videos online. At that point, he knew he had the opportunity to turn his dream into a career.
Although his musical journey as an artist has been exciting and fulfilling thus far, he has dreams that his original music will continue to be heard and embraced around the world. While he's received national attention for his creative YouTube covers, including posting a blues-filled version of LMFAO's "Sexy and I Know It," which has received more than 26 million views, and his pivotal role as Roderick Meeks on FOX's hit TV show,
"Glee,"
it's clear to see that Noah's real talent shines through putting pen to paper and crafting original music. While he was able to showcase his unscripted musical talents with his semi-finals run on season 13 of NBC's
"America's Got Talent,"
he is committed to giving his fans original music and being the authentic singer-songwriter that he's always wanted to be.
With a sound described as an Americana/Alt Country blend that is similar to Chris Stapleton's country/rock tracks, the unique soulfulness in his richly textured voice and the unmistakable Southern influence in his music makes him capable of conveying an emotion that only a handful of artists can in today's musical landscape. Noah's versatility and distinct voice is evident in each song. Noah isn't trying to box himself into any specific genre; for him, it's just about making good, honest music – music that sounds like him.
To date, Noah has built a strong following through social media and television and released two critically-acclaimed albums. He has also performed on
NBC's Today Show
and
Tonight Show
,
Hallmark Channel's Home & Family
, and
ABC's Dancing with the Stars
. Noah has opened for a wide variety of artists, including Ed Sheeran, Ben Rector, Corey Smith, Sister Hazel, Matt Nathanson, and Dwight Yoakam. Noah and his band, Good Trouble, were recently featured performers on Rock Boat XVIII with Sister Hazel, Barenaked Ladies, needtobreathe, Drew Holcomb, and others. With career highlights like opening up for Willie Nelson on multiple occasions and touring Europe five times, it's just a matter of time before the world sees what Noah will accomplish next. With new music on the horizon, an energetic band by his side, a loyal fanbase behind him, the sky's the limit for Noah Guthrie.
Check him out at his
website
and on
Instagram
,
Facebook
,
YouTube
, and
Twitter
.