Eliza Neals & the Narcotics / Noah Wotherspoon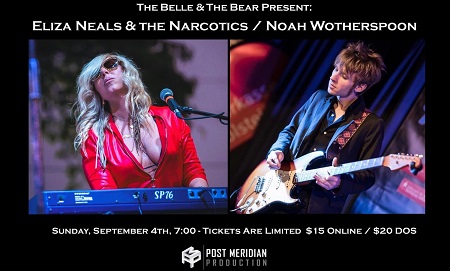 9/4/22 at The Belle and the Bear

Ages 21+
Doors at 6:00PM, Show at 7:00PM

General Admission: $15 advance, $20 at the door
More info: (513) 836-1118
Eliza Neals
is a prolific songwriter, confident producer, arranger, bandleader, pianist, and one-of-a-kind live performer. Eliza sings with unearthly passion and velvety grit, effortlessly pushing air to new heights. Her operatically trained voice has been called both sexy and menacing. None of this is surprising, of course, as Eliza mentored with Detroit's songwriting legend Barrett Strong Jr.
Kneeling before one of America's truest art forms with an unconditional passion to give the Blues everything she's got. Eliza Neals, a Detroit born blues-rock star on the rise, honors the gut-wrenching, soul splitting intent the American roots of contemporary blues represents with inspired songwriting, live performances, and magic not seen in years.
http://elizaneals.com/
The
Noah Wotherspoon
Band hails from Cincinnati, Ohio. At a very young age, Noah was enthralled with Stevie Ray Vaughn; he then moved on to revel in the recordings of the blues greats that had inspired Stevie Ray, hearing the riffs and basics of the music but also the spiritual underpinnings of the folklore behind it all. First picking up the guitar at age 11, the young guitarist almost instantly became noticed as a remarkable blues musician. When he was 13, Noah opened for Derek Trucks; by age 16, he had jammed onstage with Bobby Blue Bland and opened for Leon Russell and Boz Scaggs. Noah has also developed into a prolific songwriter, interweaving diverse influences into a unique style rooted in the ever-evolving tradition of the blues while exploring new territories. In 2015, Noah received "Best Guitarist" at the International Blues Challenge in Memphis, Tenn. and has since continued to earn praise as he tours the nation and around the globe.
https://www.noahwotherspoon.com/
7:00-8:00 The Noah Wotherspoon Band
8:30-10:00 Eliza Neals & the Narcotics