Devin The Dude 2022 Tour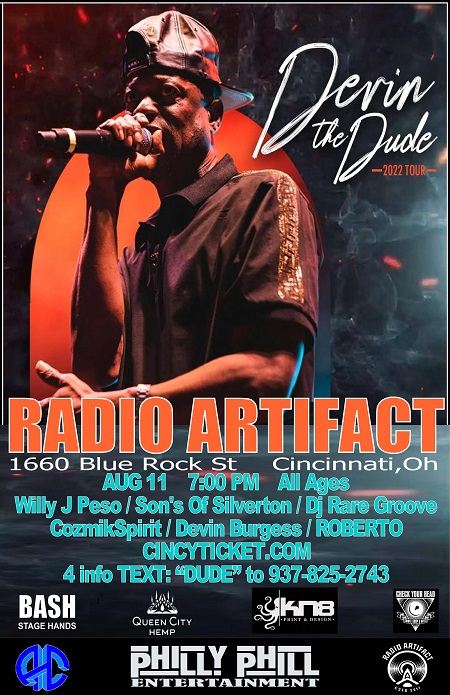 8/11/22 at Urban Artifact

Doors at 7:00PM, Show at 8:00PM
All Ages
$30 General Admission$50 VIP
More info:
www.radioartifact.com
Philly Phill entertainment & The Animal Crackers presents...
DEVIN THE DUDE!!!!
Rap-A-Lot Records and Coughee Brothaz Music Artist
Experience a small crowd, close up and personal live performance by one of the most sought after artist today!!
Limited tickets and VIP Meet & Greet are available for this event!!
Opening Acts:
Son's of Silverton
Dj Rare Groove
No Cool Kids Allowed
Cozmikspirit
KieSsha
Devin The Dude's 20 plus year career includes Gold and Platinum albums as a member of the Odd Squad and the Coughee Brothaz.
Collabrations with Dr. Dre, Snoop Dogg, Wiz Khalifa, UGK, Lil Wayne, Scarface, Andre 3000, Curren$y, Ty Dolla Sign and many more.
Merch booths, special sponsors and networking!
Don't miss this one of a kind event!!!!
https://rockthebells.com/articles/devin-the-dude-a-long-standing-genius/
THIS EVENT WILL BE LIVESTREAMED
The stream starts at 7pm dos.
Youtube.com/radioartifact
twitch.com/radioartifact
Tip Links will be embedded in the video.
Please Tip the Artists.
A Radio Artifact Production
RadioArtifact.com
91.7fm WVXU HD2