Charmed - An Event for Ukraine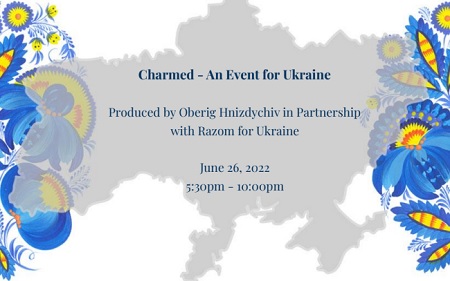 6/26/22 at The Woodward Theater

Doors at 5:30PM, Starts at 6:00PM
All Ages

$500 Reserved Table for 8
$25 General Admission for 1 (seating not guaranteed)
Can't attend? DONATE HERE

More info: www.woodwardtheater.com
Parking Info: Click Here
On February 24, 2022 the Russian Federation started a full scale invasion of Ukraine increasing
violence and displacement of people that began in 2014/15 with the annexation of Crimea and
parts of the Donbas region.
This event is being held to support the people of Ukraine as they protect their right to
sovereignty and freedom. Organized by Oberig Hnizdychiv (an NGO from Ukraine) in
partnership with Razom for Ukraine.
This will be a night of celebration and education with the purpose to raise funds for
Razom for
Ukraine
. Razom began in 2014 during the Revolution of Dignity (or known in the US as the
Maidan Revolution) to help create a path for a prosperous Ukraine. Since February of 2022
Razom has pivoted to respond to the invasion by;
Providing critical humanitarian war relief and recovery;
Evacuating vulnerable populations, and;
Advocating for Ukraine.
Charmed - an Event for Ukraine is a ticketed fundraiser that will include dinner, a raffle, cultural
education, entertainment and a live auction.