Les Miserables School Edition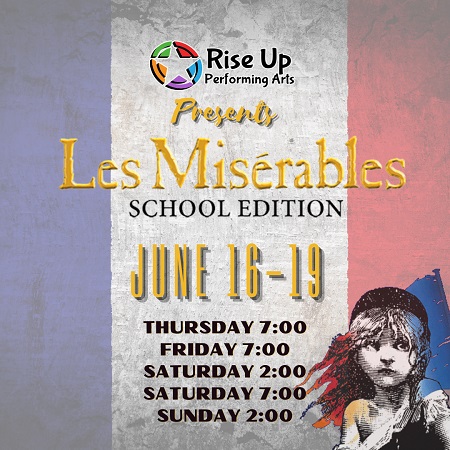 at Sorg Opera House
Thursday, June 16, 2022 - Box office opens at 5PM, doors at 6PM, show at 7PM
Friday, June 176, 2022 - Box office opens at 5PM, doors at 6PM, show at 7PM
Saturday, June 18, 2022 - Box office opens at 12PM, doors at 1PM, show at 2PM
Saturday, June 18, 2022 - Box office opens at 5PM, doors at 6PM, show at 7PM
Sunday, June 19, 2022 - Box office opens at 12PM, doors at 1PM, show at 2PM
Reserved Seating: $15 advance
Free Parking
More info:
www.sorgoperahouse.org
Rise Up Performing Arts
presents:
LES MISERABLES SCHOOL EDITION
Directed by Rodney Neal
Rise Up Performing Arts
is pleased to present Les Misérables School Edition. Les Misérables is the
world's longest running musical — a true modern classic based on Victor Hugo's novel and featuring one of the most memorable scores of all time. Featuring updated orchestrations based on the Tony-nominated 2014 Broadway revival, Les Misérables School Edition presented by Rise Up Performing Arts features a cast of 60 performers from Ohio, Kentucky and Indiana.
Epic, grand and uplifting, Les Misérables School Edition packs an emotional wallop that has thrilled audiences all over the world. The sung-through piece features a cast of exceptional singers and overflows with melodies that are already standards. This musical phenomenon is an epic tale of passion and redemption in the throes of revolution.
Free parking behind the building off of Broad Street and off of First Street.