The Four Horsemen at the Sorg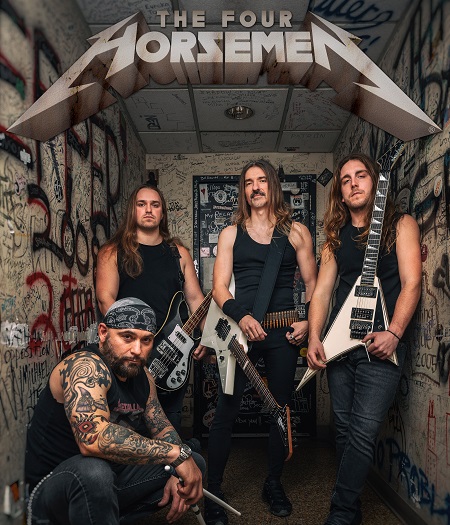 6/25/22 at Sorg Opera House
Box office 6PM, Doors 6:30PM, Show 7:30PM
Reserved Seating: $20 advance
Premium Seating: $25 advance
Free Parking
More info:
www.sorgoperahouse.org
Dedication to excellence is what separates U.S. metal heroes The Four Horsemen from the ocean of 'tribute' bands. The only album-quality Metallica tribute band on the planet, they deliver the unforgettable, note-for-note perfect experience that is guaranteed to surpass even the wildest dreams of Metallica aficionados. The speed, the precision, the signature riffs, and the look - The Four Horsemen are the real deal!

They have the talent to deliver the sonic authenticity of the vintage thrash songs with high caliber execution - including the blistering vocals of the albums like no one else. No gimmicks on the stage. Just sheer energy, chest-pounding, crowd-pleasing power. The very same intensity that drew millions to Metallica in the 80's. Guitarist/vocalist Sean Perry explains; "Fans deserve the highest quality reproduction of Metallica's records and shows. That's why we're here."

Guided by his vision and determination, the band have become heroes to their ever-growing fan base in the U.S. and are now spreading their wings to take over the globe.

"I saw Metallica on the Black Album tour in 1991 and that experience changed me forever. The sound, the energy between band and audience - from that moment on I knew what I was put on earth to do. Music is my life!" says Sean. Little did he know that his thrasher heroes would play an even bigger part in his artistic future when he was approached by a Metallica tribute band looking for a new, charismatic front man in late 2006.


Free parking behind the building off of Broad Street and off of First Street.