Hotel California
Bundle
Buy Bundle
Choose 10 upcoming Sorg Opera House shows for just $150/reserved or $175/premium!
Buy Bundle
Choose 5 upcoming Sorg Opera House shows for just $85/reserved or $100/premium!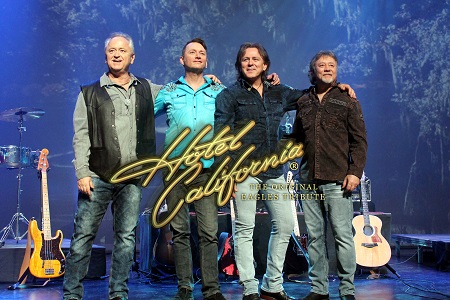 11/26/22 at Sorg Opera House
Box office 6PM, Doors 7PM, Show 8PM
Reserved Seating: $30 advance
Premium Seating: $35 advance
Free Parking
More info:
www.sorgoperahouse.org
They sold out the Sorg the first time and now they're returning! Hotel California is the premier tribute to the Eagles and arguably the most popular in the world! The members of Hotel California are huge fans of the Eagles and feel privileged to perform from such an extensive body of amazing work. The Eagles are truly master craftsmen of music who scored seven number one singles, six Grammy's, five American Music Awards and six number one albums. They are one of the world's best selling bands of all time…selling 150 million records. You'll hear all of these hits, remarkably replicated, in this spectacular show. Close your eyes and you'd swear it was The Eagles, note for note. Hotel California has performed in Japan, Dubai, India, Bermuda & all over North America, sharing the stage with the Doobie Brothers, Lynyrd Skynyrd, REO Speedwagon, Styx & Gretchen Wilson just to name a few.


Free parking behind the building off of Broad Street and off of First Street.