Riders in the Sky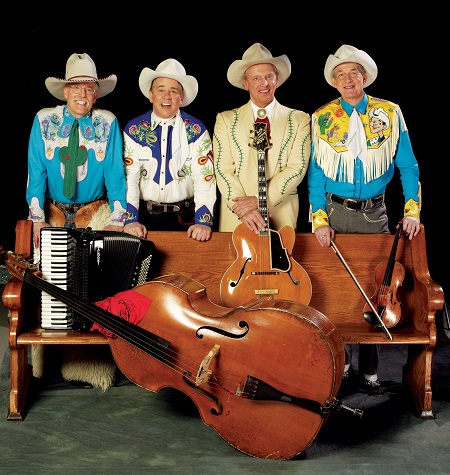 5/6/23 at Sorg Opera House
Box office & Doors 7:00PM, Show 8:00PM
Reserved Seating: $35 advance
Premium Seating: $40 advanceBox Seats: $35 each
(

Must buy all 4 in a box

. Includes 1 drink voucher per seat. **Please be aware that lines of sight to some parts of the stage may be partially obstructed by sound equipment.)

Free Parking
More info:
www.sorgoperahouse.org
The Sorg Opera House is excited to welcome back the Grammy Award winning - Riders In The Sky. The classic cowboy quartet are the keepers of the flame passed on by the Sons of the Pioneers, Gene Autry and Roy Rogers, reviving and revitalizing the genre of Western music.

Riders In The Sky have themselves become modern-day icons by branding the genre with their own legendary wacky humor and way-out Western wit, and all along encouraging buckaroos and buckarettes to live life "The Cowboy Way!"

Riders have chalked up over 6100 concert appearances in all 50 states and 10 countries, appearing in venues everywhere from the Nashville National Guard Armory to Carnegie Hall. Now they will return to the same stage where Will Rogers performed decades ago - The Sorg Theater.

Their cowboy charisma and comedic flair has transferred to the small screen with a weekly show on TNN, as well as a Saturday morning series on CBS. They have been guests on countless TV specials, documentaries and variety shows, appearing with everyone from Barney to Penn & Teller. Their animated likenesses have also been portrayed on the Cartoon Network and Disney Channel.
Riders In The Sky wrote the musical score for Pixar Animation's 2002 Academy Award-winning short "For the Birds."

However the animated character that history will most certainly link to Riders In The Sky is the loveable cowboy Woody, as Riders performed "Woody's Round Up" in "Toy Story 2," with the album of the same name garnering Riders their first Grammy Award in 2001 for "Best Musical Album for Children." Two years later, Riders roped their second Grammy in the same category, for "Monsters Inc. - Scream Factory Favorites," the companion CD to Pixar's award winning movie.

This performance is made possible in part by generous grants from the Middletown Community Foundation and First Financial Bank.


Free parking behind the building off of Broad Street and off of First Street.