The Ultimate Doors Tribute
Bundle
Buy Bundle
Choose 10 upcoming Sorg Opera House shows for just $150/reserved or $175/premium!
Buy Bundle
Choose 5 upcoming Sorg Opera House shows for just $85/reserved or $100/premium!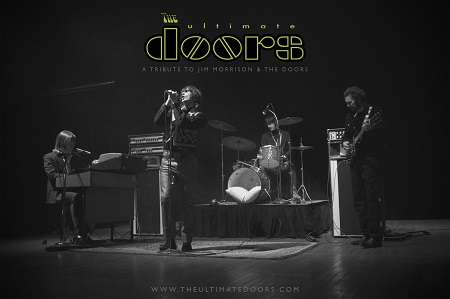 10/15/21 at Sorg Opera House
Box office 5PM, Doors 7PM, Show 8PM
Reserved Seating: $25 advance
Masks are not required, but are optional. The theater is open at full capacity.

Free Parking
More info:
www.sorgoperahouse.org
The Ultimate Doors was formed with the intention of preserving The Doors' music and performances as well as bringing an authentic experience to the old and the new generations of Doors fans.

With great attention to detail, The Ultimate Doors provide their audiences with an authentic looking and sounding tribute to Jim Morrison & The Doors. From Jim Morrison's leather outfits all the way down to the color of the microphone cable, The Ultimate Doors leaves no stone unturned in bringing an authentic Doors tribute show to the stage.

The four musicians within the Ultimate Doors who take on the roles of Jim Morrison, Ray Manzarek, Robby Krieger and John Densmore do not take the job of portraying their idols lightly. They want to do their idols proud., and want to provide such an authentic experience that their audiences feel as if they are watching The Doors performing live in the late 1960s. Don't miss your chance to see this stunning tribute to one of Rock N Roll's greatest bands live on the Sorg stage!

This performance is made possible in part by generous grants from the Middletown Community Foundation and First Financial Bank.


Free parking behind the building off of Broad Street and off of First Street.