Drinking Habits 2: Caught in the Act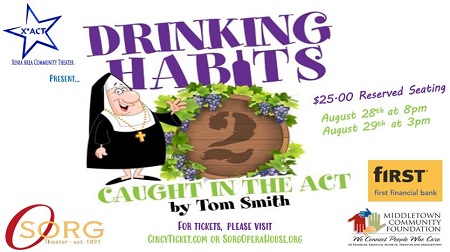 at Sorg Opera House
Saturday, August 28, 2021 - Box Office at 5:00 PM, Doors at 7:00 PM, Show at 8:00 PM
Sunday, August 29, 2021 - Box Office at 12:00 PM, Doors at 2:00 PM, Show at 3:00 PM
Reserved Seating: $25 advance
Seating buffer is automatically added on either side of your group after you select seats. Please stay home if you are feeling sick or have a fever. Masks are required at all times in the venue, even in your seats, except when actively eating or drinking.

Free Parking
More info:
www.sorgoperahouse.org
If you saw the Sisters of Perpetual Sewing the first time, you won't want to miss them this time! And if you missed the first play, here's your chance to catch all the laughs of Tom Smith's "Drinking Habits" plays. It's "Drinking Habits 2: Caught in the Act!" Presented by X-Act, Xenia Area Community Theatre, live on the historic Sorg Opera House stage.

The Sisters of Perpetual Sewing miss the excitement of the old days when they were saving convents and reuniting long-lost families. When they learn that the orphanage where Paul and Kate grew up is in peril, they can't wait to come to the rescue. Everyone pitches in to mount a play to raise money, but it's no easy feat. With Kate expecting any day, Sally hiding from stage-fright-stricken Paul after another flight from the altar, Mother Superior acting unexpectedly narcoleptic, and the sisters' award-winning wine continually getting switched with grape juice, the merry mix-ups multiply in this warm and winsome sequel to "Drinking Habits!"


Free parking behind the building off of Broad Street and off of First Street.