Captain Fantastic: The Music of Sir Elton John
Bundle
Buy Bundle
Choose 10 upcoming Sorg Opera House shows for just $150/reserved or $175/premium!
Buy Bundle
Choose 5 upcoming Sorg Opera House shows for just $85/reserved or $100/premium!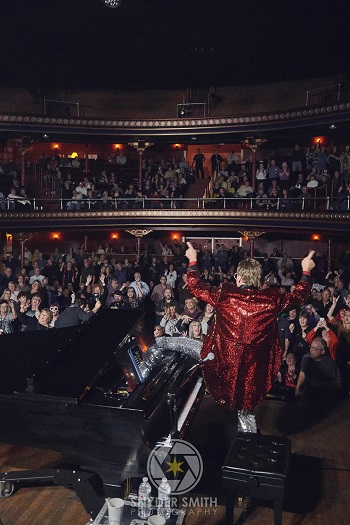 11/27/21 at Sorg Opera House
Rescheduled from 3/20. Tickets will be honored on new date.
Box Office opens at 5:00PM, Doors at 7:00PM, Show at 8:00PM
All Ages
Premium Seating: $25
General Seating: $20 advance, $25 day of show/box office
Free Parking
More info:
www.sorgoperahouse.org
"The bitch is back!" It was one of the most talked about events in Middletown in 2019, and The Sorg Opera House is happy to welcome back Captain Fantastic! Detroit's Ron Foss and his band bring the music of Sir Elton John to the Sorg stage once again. If you missed the near sold out show last November, you won't want to miss it this time. And if you did see the show, you know what a great return performance Captain Fantastic has in store.

Take a musical journey through all the iconic hits of the Rocket Man with a stage performance that recreates the magic and persona of Elton John himself! The Sorg stage and its grand piano will light up with all the timeless classics from the 1970's and 80's. Sing and dance along with Captain Fantastic but get your tickets while you can!



Free parking behind the building off of Broad Street and off of First Street.