Aja, A Tribute to the Music of Steely Dan
Saturday, Sept. 21, 8:00 p.m it's Aja, A Tribute to the Music of Steely Dan. The magic of Aja is that they combine an overwhelming collection of talent with a reverence for Steely Dan. The 10-piece Cincinnati/Dayton Ohio based group is comprised of musicians from all sides of the spectrum. Pulling from a list of over 30 Steely Dan classics, Aja offers a balanced tribute to the mysterious and musically...Steely Dan. Box office at 5:00 p.m., doors at 7:00 p.m., show at 8:00 p.m. The Sorg Opera House is at 63 S. Main St., Middletown, OH. Reserved seats are $25.00 plus fees. A benefit, all proceeds help to Save the Sorg.

This concert sponsored in part by a generous grant from the Middletown Community Foundation.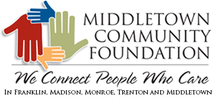 Free parking behind the building off of Broad Street and off of First Street.