Cincinnati Auto Expo 2019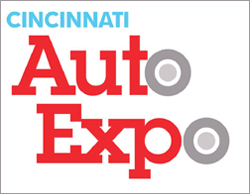 Schedule
February 6-10, 2019
Wed.: 5 – 9 PM
Thu.: 11 AM – 9 PM
Fri.: 11 AM – 9 PM
Sat.: 10 AM – 9 PM
Sun.: 10 AM – 6 PM

Location
Duke Energy Convention Center
525 Elm Street Cincinnati, OH, 45202
February 6-10, 2019 at Duke Energy Convention Center
The Cincinnati Auto Expo is fun for all the senses! See, touch and sit in the latest offerings from 34 manufacturers. Whether you're in the market for a new car this year, want to keep up with the industry's latest and greatest, or are looking for a fun outing for the whole family, the Auto Expo has you covered. Don't miss special exhibits including the Ride & Drive Center, the Dream Machine Boulevard presented by GE Credit Union, live music in the Craft Beer & Wine Garden, Safe Travel Family Zone and more!
$9 advance (no service fees)
$11 at the door
Children 12 & under are free
More info:
www.cincinnatiautoexpo.com
As Greater Cincinnati's only automotive industry event, the Expo showcases the latest cars, trucks, SUVs, crossovers and hybrids on the market today. Knowledgeable product specialists and dealer representatives will be there to answer all your questions and show you everything you need to know in a sales free environment. With a wide selection of attractions and exhibits, the 2019 Cincinnati Auto Expo will have something for everyone in your family. Make sure to check out our new Beer and Wine Garden, the expanded Dream Machine Boulevard, the fun-filled Safe Travel Family Zone, and the all the custom vehicles on display in Fifth Street Concourse.